Uttarakhand's connectivity is all set to get a big boost. At 11 AM today, I will be flagging off the Vande Bharat Express between Delhi and Dehradun. Making the occasion even more special is the feat of 100% electrification of Uttarakhand's rail tracks. Do join the programme.
@narendramodi The inauguration of the #VandeBharat Express between Delhi and Dehradun is a momentous occasion for Uttarakhand. The enhanced connectivity will not only boost tourism but also promote economic growth in the region! 🙏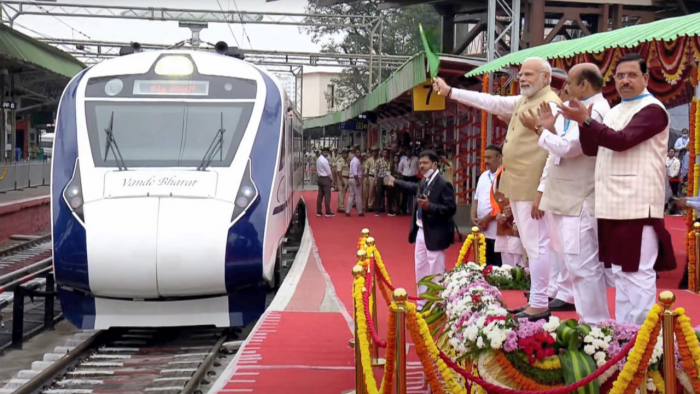 @narendramodi Sorry modi ji aadhi neend me boost ko boobs padh liya 😣
@Invincible_Squi @narendramodi Ye dp laga le

@narendramodi अपने सफल विदेश दौरे से लोटते ही विकास कार्यों को गति अद्भुत । आप जैसा देश का सच्चा सेवक माँ भारती के लिए वरदान है । @narendramodi ✌️
@narendramodi आदरणीय प्रधानमंत्री जी आपके मार्गदर्शन में आज देवभूमि उत्तराखंड के विकास को भी मिलने जा रही वंदे भारत एक्सप्रेस की रफ्तार.. इस अभूतपूर्व सौगात हेतु आपका कोटिश: आभार ! #VandeBharatExpress

@narendramodi Thank you Honorable Prime Minister Shri Narendra Modi ji, on behalf of all the residents of Dev Bhoomi Uttarakhand, thank you very much for giving the gift of our Gaurav Vande Bharat train to the state of Uttarakhand☀️🙏👍
@narendramodi Huge development activities across the country are coming electrifying utharakand is game changer for that part of railways.
@narendramodi 8 coaches. Average speed 64 kmph